My brother [Jake Ryder] is pretty much one billion times cooler than me. That is sort of something I can't help but I mean, I enjoy it because I get to bask in his coolness and be inspired by whatever he is up to.
I write a lot and know how to color coordinate things, but he is an incredible artist and creates things that liven up a whole house. For example, he built me this gorgeous candle holder out of glass and steel: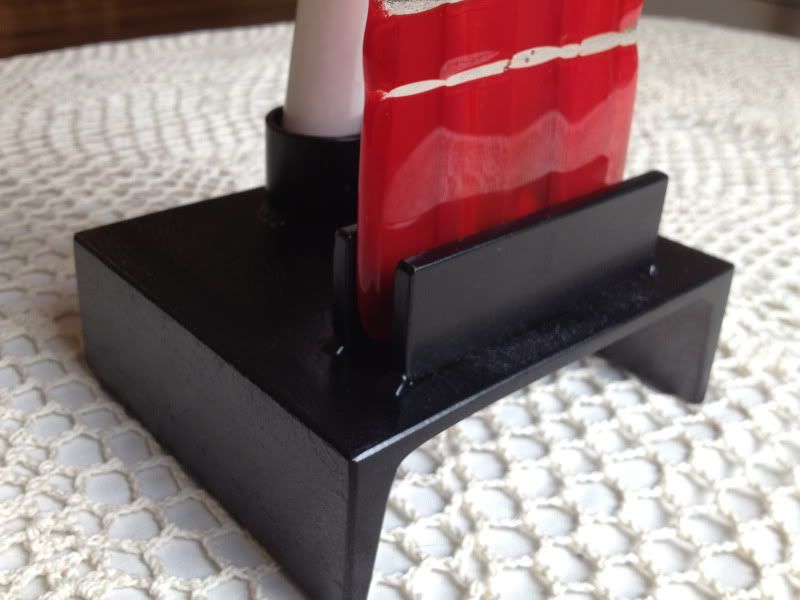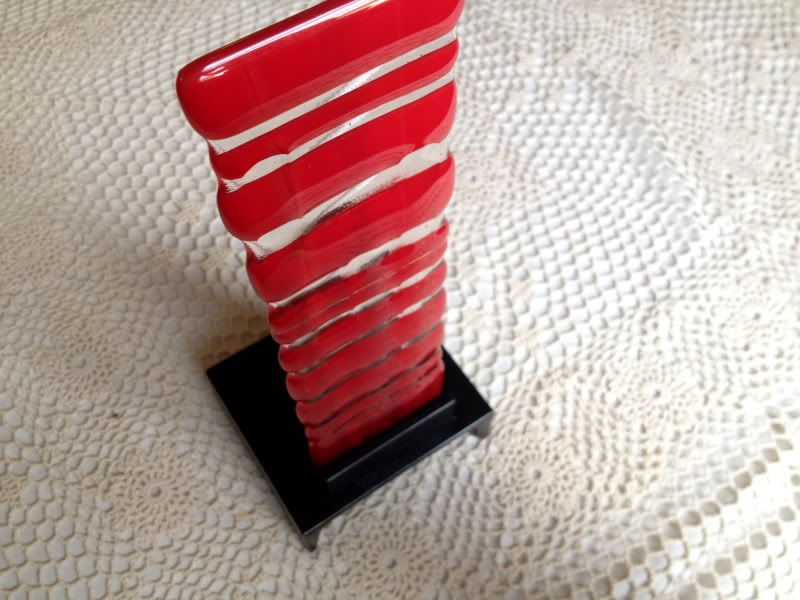 Clearly, this is the coolest thing I own. Even Roxanne the Cat is into it. Now, if you're anything like me- you're still stuck on the sentence "he
built
me this gorgeous candle holder out of glass and steel." Did you know you could just BUILD things out of glass and steel?
Shoot, even as I typed that I felt silly
- but I typically associate glass and steel with
big buildings
and not necessarily something so delicate and beautiful... like this. And he does just that with his business,
J Ryde Visuals.
So: the base is fabricated out of steel and the custom fused glass adds that "pop of color" business people can't stop raving about. The holder is 12" tall and perfect for a tall table candle. That being said, this is perfect for a table at say, a dinner party, if you're into that sort of thing. Or, you can be like me and rotate it around your house frequently because you're indecisive so you put it on your bookshelf and desk and dining table. Currently, it is on my bookshelf and the light is shining in through the window and the glass is gently illuminated without the candle even being lit... stunning.
My brother thought ahead and is selling these in sets of two at his Etsy Shop
HERE
. This is great if you have a longer table or you just like symmetry. The height and color of the candle holder is so tasteful, that adding a second one would really make a gorgeous statement in any home.
And, of course, it'd be silly to assume he was only into candle holders. You maybe have seen the link to his
website
on the left sidebar of L&L. If you have, you're all too familiar with the
furniture
and
freakbikes
and if you just read that and thought "what is a freakbike??" then I think your only option is to click and find out.
Right now in his shop, he has got two pieces I am really longing for: the
street sign table
[which adds an adorable bit of orange to the room] OR the
skateboard chair
[to make me seem cooler than I am].
Except... really, right? I think that my house has gotten TOO girly, which IS a thing ladies, and like the candle holder- these furniture items would really help me out by adding a little edge. And isn't that the goal of my blog anyways? Finding a balance- in life or just in decor. If you're looking to take your decor a hint in the other direction, check out
J Ryde Visuals
. Tell him his dweeby little sister sent you! :)