Holy Macaroni, what a city I live in. This weekend was a whirlwind! Friday, we had date night at
Umami Burger
- maybe the best burger I've had here...
SO FAR
. Saturday... I'll go into detail on Saturday below. And Sunday, we went to
Fleet Week
and watched the Blue Angels [one of my favorite childhood pastimes]. Follow that up with a movie at
Kabuki
theater, add a terrorist cat named Leonard who meowed all night so I didn't sleep... and I'm
exhausted
today! It was so jam packed, I forgot to photograph basically everything. Except Saturday, which was
Hardly Strictly Bluegrass Festival
: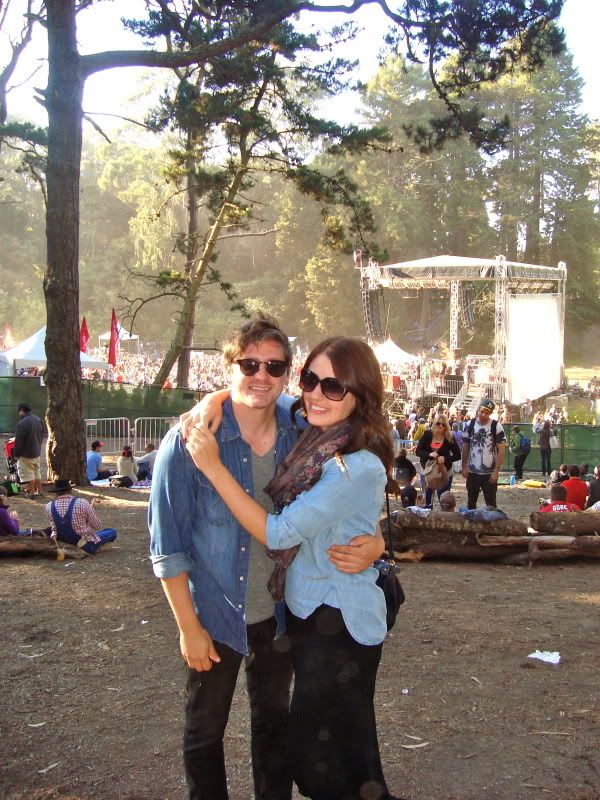 We started the day hosting a brunch at our place- specifically on our roof deck, which is the closest thing I have to a front porch here. We had some good friends over for my
signature meal
, and then walked to the festival. Festival wear is famous [and seems to always involve crochet of some sort], but of course... SF has unpredictable weather. I initially planned a shorts/boots/sweater deal, but worried that the fog would roll in and I'd be freezing. SO somehow this is what I ended up with as an outfit.
While it isn't the most flattering combination of clothes I've ever put on my body, it was perfect for the day. It is also important to note that Tim and I have this issue every weekend: we race to see who can put a denim shirt on first [the loser has to find an alternate shirt]. This day was a tie. Twinsies!
While at the festival, we enjoyed The Lumineers [favorite], and legend Patty Griffin... with a little appearance by Robert Plant. In the first picture, I should be smiling because the group at the base of the steps to the stage includes Patty, Robert, and Emmy Lou Harris... probably just chatting about how the set went, and where to grab lunch. SIGH.
I hope you all had a great weekend [and are slightly more rested than I]... and I'll see you tomorrow!